Location
Erodios campsite is located in a peaceful, natural setting next to the sea and Gialova wetlands in Messinia. You can customize your camping experience according to your needs.
Food & Drinks
From traditional to gourmet, Mediterranean cuisine is truly special. At Erodios campsite, we believe in offering our customers a unique experience that combines all the flavours of the Mediterranean in one place.
So if you are passionate about food, and you are searching for truly exceptional tasting experiences during your summer vacation, then Erodios is the place for you.
Daily Changing Greek Menu

Every single day our chefs create a whole different menu especially for you and your family! Enjoy a variety of flavors and colors, with recipes from all over Greece. We guarantee that you won't get bored with the menu even if you plan to stay for many days.

Fresh Local Ingredients

We use only extra virgin olive oil (which is a landmark of Messinia), fresh herbs and seasonal fruits and greens from local producers. This makes each meal so special, it's easy to forget that you are in a campsite's restaurant!
Self Service Experience
From the moment you walk in, there is no need to adjust to a waiter or wait for your food. Instead, you take control and make your own gastronomical experience.
It's up to you to decide how quickly you want to eat. You are able to grab your food just when you arrive so that you don't have to waste time waiting. What a relief, right?
Build Your Dish
The daily menu usually includes
3 complete meals:
In Erodios campsite restaurant, you have the opportunity to build your own dish according to your daily appetite without limitations! The daily menu usually includes 3 complete meals:

2

Ladera (olive oil-based) Meals

Oil-based dishes are an integral part of traditional Greek cuisine and include a large number of recipes. Their main ingredient is vegetables, which are often combined with starchy foods such as rice or potatoes or protein sources such as meat or chicken. Almost always, they are accompanied by bread and cheese. Get a small taste:

Okra

May sound simple but the fresh greek spices make this a hearty, satisfying dinner.

Beans

Made with garlic and flavorful seasonings, this veggie dish is simply delicious.

Peas

Crisp, sweet peas and tender potatoes. Creamy comfort food at its finest!

It is an unlikely scenario to come to Greece and not try the traditional Greek dishes...And we at Erodios campsite restaurant will take care of that! Greek cuisine is directly connected with the deep history of Greece from ancient times until today. It is considered the most delicious and healthy cuisine in the world. Get a small taste:

Mousaka

Minced beef cooked in tomato sauce, which is subsequently layered with sweet eggplants and creamy béchamel sauce.

Pastitsio

Baked pasta dish including ground beef and béchamel sauce.

Papoutsakia

Local aubergines stuffed with minced meat, béchamel and melted cheese.
We always make sure there are 1-2 vegan and vegetarian options.
Are You Thirsty?
Take off your favorite dish with the right wine, the nectar of the Gods! We provide a great collection of wines made by local producers. The Messinian wines are truly a labor of love!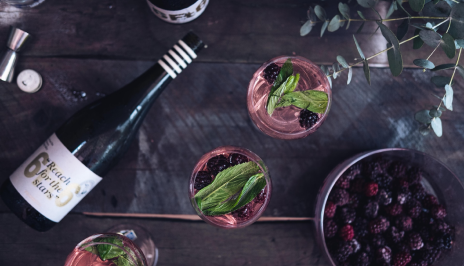 Are you in the mood for a summer cocktail after or before eating to cool you down? In the cafe bar, you can find a list of classic cocktails that every cocktail lover should taste once in a while!
Summer is the perfect time to enjoy your favorite refreshing cocktail. Get a small taste and immerse yourself in moments of pleasure and complete relaxation:
Margarita

Tequila, triple sec and fresh lime. The rim of the glass is garnished with salt for that extra punch.

Daiquiri

White rum, strawberry, sugar syrup and lime. Frozen or not always delicious.

Mojito

Fresh mint, white rum, sugar, zesty lime and cooling soda water. Awaken your senses.
Summer Activities
Summer is a time of year when people can enjoy all kinds of active sports. Are you looking for new sports to try or are you a pro? While staying at Erodios campsite there are lots of sports you can do or visit popular sea sports centers nearby.
Cycling is one of the most popular summer sports because it can be enjoyed by anyone at any age or skill level. It doesn't require much equipment either, which makes it very convenient to participate in.
Cycling around

Gialova Region
What a ride! Start out on dirt roads and cycle past the old olive tree farms. Then reach the coast of the Gialova lagoon. What a sight!
Here, you can find 270 bird species from Greece, and you might have the chance to watch closely a flock of Pink Flamingos resting at the shallow waters of the lagoon.
Gialova Lagoon is less than 6km away from Erodios campsite, and Voidokilia beach only 2.5km. Ideal distances for a bike ride!
The Ionian Sea is quite popular for windsurfing enthusiasts.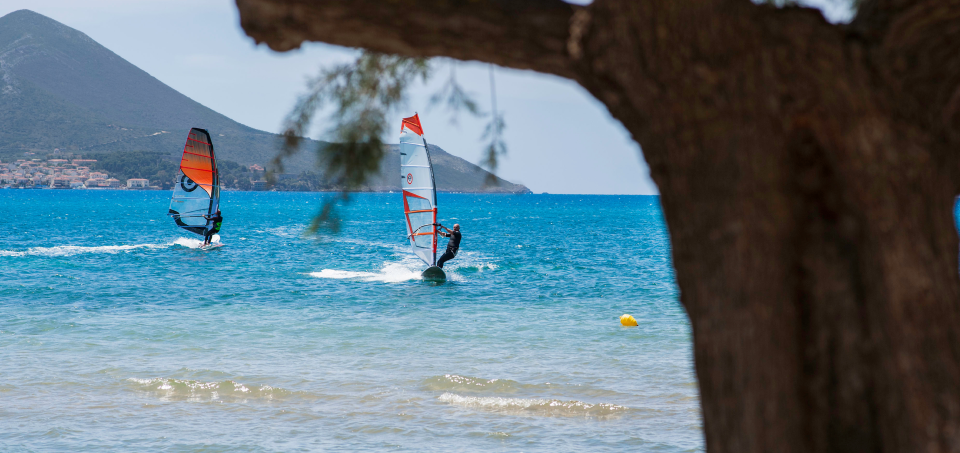 Windsurfing is a type of summer sport that involves riding on a surfboard powered by a sail on the offshore breeze or wind against the onshore wind. It has a strong following, partly because there are so many beaches where you can do this activity.

If you have your own windsurfing board we have special storage space inside Erodios campsite, but also a special path to enter and exit the sea safely!

You can windsurf here in Gialova. A mild breeze starts early in the morning and becomes stronger as the day goes on. If you are more advanced, then the afternoon is your time!

Do you want to explore more Peloponnesian beaches for windsurfing? Agios Andreas is a rarely-crowded beach that enjoys an almost constant breeze during the high season. The thermal breeze can blow up to 25 knots per hour and is only interrupted by a small number of days each year.
There is one of the best kitesurfing centers suitable for experts and beginners less than 8km away from Erodios campsite.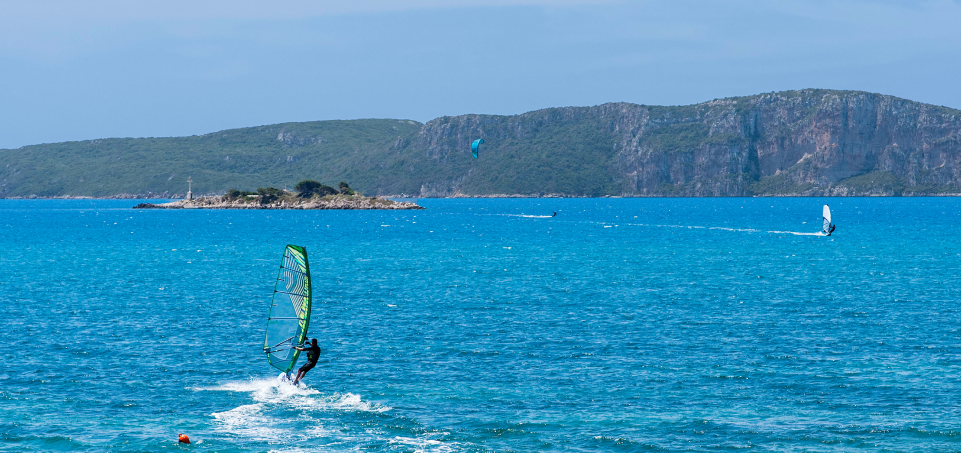 Kayaking and canoeing are our favorite summer sports. They combine physical activity with a chance to enjoy the scenery. The best part is that you can do it without a lot of equipment, just a kayak or canoe, some life jackets, and a paddle.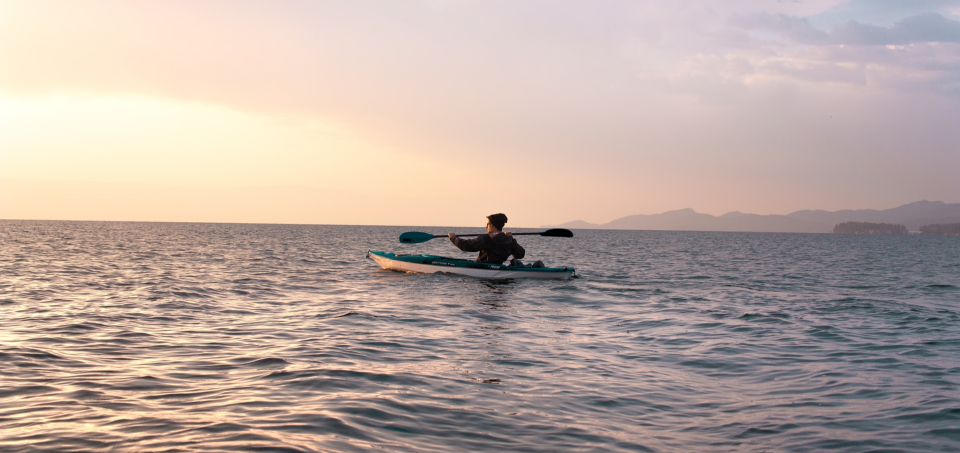 Swimming, running, cycling and fishing are all great ways to spend your summertime. But you should not neglect kayaking and canoeing either! They allow you to explore the water in a completely different way.

Kayaking and canoeing are our favorite summer sports. They combine physical activity with a chance to enjoy the scenery. The best part is that you can do it without a lot of equipment, just a kayak or canoe, some life jackets, and a paddle.

You can kayak or canoe on rivers or oceans, for leisure or as a competitive sport. It also provides the perfect opportunity for some serene fishing trips. Kayaks are also easier and cheaper to rent than boats!

If you own a kayak or canoe, you can row your way out in Navarino bay or visit the Sfaktiria island right from Erodios beach using our special safety path!
Amenities
Hot Water

Stay in a camping site that outputs hot water 24 hours a day. No more camping with cold water showers after a long day of exploring and playing at the sea.

Laundering

You can use our professional washing machines and tumble dryer to wash and dry your clothes easily and quickly!

Free WiFi

Do you want to stay in touch with your colleagues or friends without worrying about consuming your mobile data? We've got your back!

Free Sunbeds & Umbrellas

You will be able to enjoy the sun and the beach and have free use of our sunbeds and umbrellas.
Our
cleaning

staff does continuous cyclic cleaning of the public use areas


(3x toilet and shower facilities, 2x shared kitchens). Approximately every facility is cleaned every 2 hours from 7:00 to 22:00.
Facilities
Cafe-Bar

Relax and enjoy yourself spending quality time with your friends and family. Savor every moment of your day while having coffee or a refreshing cocktail!

Parking

You can use a free parking spot for your car so that you don't have to worry about running out of space.

Restaurant

Fine traditional cuisine made from fresh ingredients.Enjoy wonderful flavors of herbs, spices, fruits, pulses and meats. We have a large range of dishes with prices affordable for everyone!

Football Field

We have created a 5x5 football field in which you can play football and have a hell of a time with your friends and family or other guests of Erodios camping site.

Playground

Our playground next to the cafe-bar is ideal for our young guests so you can keep an eye on them and just relax while having coffee or a refreshing cocktail!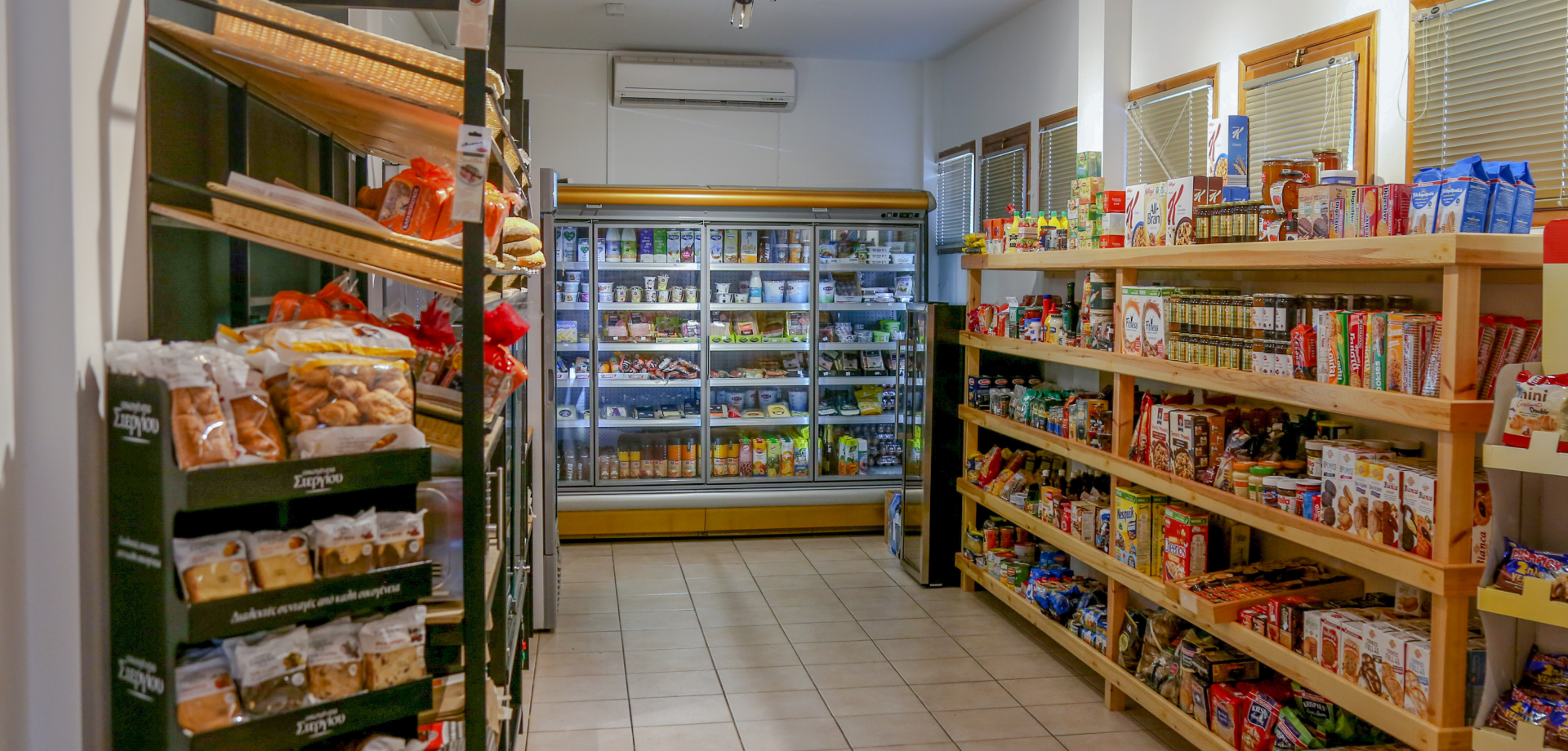 Mini Market
Our mini-market is your place for all your daily food needs and other necessities. You can find everything in one place without needing to leave the campsite, like:
Essential supplies

Large variety of edible products

Basic camping equipment

Fresh and crispy bread every morning

Puff pastry and other delicious baked goods for breakfast.
Need more info?
We will be more than happy to hear from you!
Just contact us and start packing your luggage!